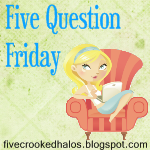 I didn't have time to blog yesterday so I am taking part of the 5QF fun a day late! Don't judge me!
Thanks
Mama M.
for the fun questions!
1.
What's your "comfort food"?

Hmm.....I love soup. I think corn chowder with a slice of cornbread sounds pretty comforting to me. It also sounds like a bazillion calories and carbs which means it is out for me!! Healthy comfort food? Probably what I had for breakfast this morning....steel cut oats, bananas and blueberries!





2.
Do you send Thank You's (handwritten or email)?

Absolutely handwritten and I usually include pictures! Since most of my thank you notes revolve around Emersyn these days, I try to take a picture of her using whatever the thank you note is for. I need to get on top of thank you notes for this past Christmas season though, we have a lot to be thankful for!!





3.
If you had to be trapped in a TV show for a month, which show would you choose? Interesting question....hmm.....a month is a long time. I guess I would copy my BFF's answer and say "Friends". I think that laughter would pretty much be guaranteed!

4.
What is your favorite online recipe site?

I like FoodNetwork.com. I trust the professionals! :)



5. If you had to choose: "Friends" or "Seinfeld"?
Refer to questions number 3. :) Although I do think Seinfeld is hilarious too!
*************************************************************************************************
I started the 30 Day Shred last night. Read about my 20 minutes in hell HERE!
Happy Saturday everyone! Time to get off the computer and get movin'! :)