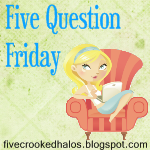 Mama M
is sooooo close to her goal of 100 participants in Five Question Friday...even though I have already posted for the day, I gotta help a bloggy friend out! :) Here we go!
1.
Worst trouble you ever got into as a teenager?
Hmm...depends on who you ask! I was in a special Health Careers program when I was in high school and it was located at another campus. Let's just say I took my time getting to and from there and occasionally missed a class or two here or there. Or way more then two. Like at least one per week. I wasn't too into high school towards the end. Or the beginning. :) I got into trouble in my later teens too but it isn't worth bloggin' about. I am thankful to be a new creation in Christ!! :)

2.
Are you a morning person or a night person?


NIGHT person all the way. I thought having a baby would change this but it turns out she is a night person too. :) Brett and I love our evenings after Emersyn has gone to bed and have trouble putting an end to them to go to bed. I always regret staying up late the morning after though.....


3.
Are you a one-handed or a two-handed Texter?

One!


4.
Democrat, Republican, or Independent..or maybe even Green Party (whatever that is).

I am a Republican and am conservative but don't always agree 100% with the Republican stance on everything.
5.
Are you a pet person?

Yes, I am. Even though pets are smelly and messy, I do love them. We just have one low maintenance cat right now but Brett is really wanting to get a puppy. I want to wait until Emersyn is a little older when she might appreciate a puppy a little more. And I am using the excuse of working and not being home to house train a puppy. :) I think we will get one before our next baby though; Brett has always grown up with a dog and I know he misses our sweet Molly Brown a lot. :(