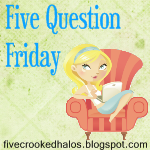 Can you believe it's Friday already?? Friday is my favorite day of the week, it's family day! But, while I wait for the little missy to wake up from a nap and Brett is updating his benefits through work, I can take part in some Five Question Friday fun, courtesy of Mama M!

1. Does Santa wrap the presents he leaves at your house? Hmm....we don't have too much experience in this area quite yet since it's only Emersyn's second Christmas. We are ONLY going to do presents from Santa at our house (for as long as she believes in Santa) and they are going to be more stocking stuffer gifts. We will save the bigger ticket items for her birthdays. When I was a kid, the presents from Santa were wrapped though so I would say yes to this question. :)

2. When is your "big" Christmas celebration...Christmas Eve or Christmas Day? Tell us about it...Well, our holidays have changed since my parents moved to Minnesota last year (the nerve!!). We used to do Christmas Eve with my family and do dinner and sometimes go to church, which I love doing on Christmas Eve. Then we would open presents with my parents in the wee hours of Christmas morning....and then head to Brett's family for the rest of the day. Now that my parents live out of the state, we either go see them or they come to us. Last year they came to us but we didn't feel right not seeing Brett's family just because my family was here so we spent Christmas morning at Brett's parents house while my family relaxed and read the paper and drank coffee in their pajamas. We got home around noon and then opened presents with my family and made a Christmas feast for dinner.

3.
Are you big on keeping tradition every year? We haven't quite established any traditions yet but are looking forward to doing some as Emersyn gets older and we have more children! :)

4.
Do colored lights or white lights tickle your fancy? White lights!!!

5.
Do you decorate outside your house for Christmas? We have but didn't this year. Ran out of time and since we are leaving for Christmas, we decided not to. Next year we will though, I just love pulling up to a house with Christmas lights on it!!

Well, that concludes our Five Question Friday! :)

Last night we got to go on a little impromptu date, it was so fun! We decided to leave Emersyn with her Nana and Papa while we went to dinner. We are so glad we did! We were going to bring her since our other friends were bringing their one year old but decided that Emersyn would have more fun playing at her grandparents house. At dinner, our friends took turns eating and chasing their baby and I was so happy to just enjoy my meal and have no baby to chase. After dinner we left the group and went and saw "The Blindside" finally. What a great movie!! Then we picked up Emersyn who was asleep and she went right to sleep in the car and at home. A perfect night. :)

Today we are going to see SANTA!!!!! I KNOW HIM!!!!!! (Elf)

Happy Friday!